Frontier in Medicine, Frontier in Expertise 
Medicine is making advances every day. New frontiers have been frequently opened up, and continuously pushed forward by science and technology. 
Physicians treat patients; many of them take the initiative to ask questions and identify unmet medical needs. Scientists deepen our understanding by seeking the underlying basis behind illnesses, uncover previously unknown biological insights, and make medical progress possible. Through a rigorous regulatory process, translational medicine then moves their discoveries from benchside to bedside, leading to a paradigm shift in standard of care through novel treatment and cures, diagnosis, and other means for intervention or management.
It is hard to believe that only 2-300 years ago did modern medicine, or medicine as we know it, start to emerge. Expertise acquired through all the practice above constitutes the foundation to achieve "service excellence" in healthcare.
"FDA Approved" - Medicine's Latest Breakthroughs 
Yet the frontier in medicine might imply differently, the latest breakthroughs could be revealed by novel therapies approved by the Food and Drug Administration (FDA). Each year, FDA evaluates and approves a few dozen novel drugs and therapeutics, helps set the new standard of care, and significantly expands treatment options for patients both in the United States and globally. 
Patients in the U.S. are exceptionally benefited from having access to the safe and advanced therapeutic breakthroughs, as most novel drugs are approved in the U.S. before any other countries. It further makes FDA approval one of the most important indicators that defines frontier in modern medicine, not just for the U.S. but also the entire world.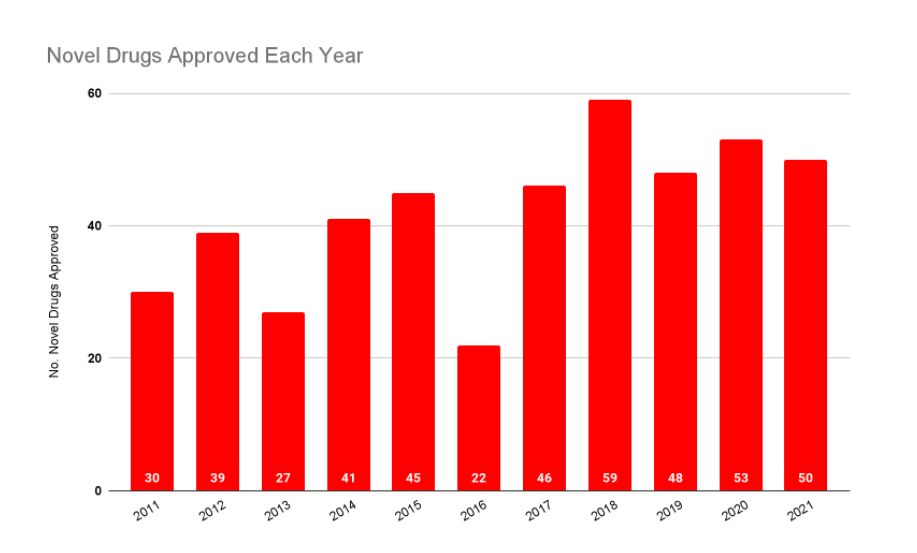 This Year's Novel Therapies and their Related Disease Areas
Patients long for novel therapies for their unmet medical needs.
In 2021, the Center for Drug Evaluation and Research (CDER) at FDA approved 50 novel drugs, either as new molecular entities (NMEs) under New Drug Applications (NDAs), or as new therapeutic biologics under Biologics License Applications (BLAs). 74% of this year's approval are through certain expedited programs and 76% of the novel drugs were approved in the U.S. before any other country. (FDA, 2022)
These novel therapies are approved for 52 diseases or health conditions. FDA summarizes the approvals into six categories, including Infectious Disease; Neurological and Psychiatric Disorders; Autoimmune, Inflammatory, and Lung Diseases; Heart, Blood, Kidney, and Endocrine Diseases; Cancers ; and Other Drugs and Advances. (FDA, 2022)
Diseases are categorized in accordance to New Drug Therapy Approvals 2021 Advancing Health Through Innovation (FDA,  2022 )
In their designated disease areas, inflammatory bowel disease (IBD), HIV, and non-small cell lung cancer have the most number of novel therapies approved in 2021.
Cancers are the disease category with most novel therapies approved, including a number of drugs and therapeutics approved for rare cancers, such as Cholangiocarcinoma; Certain tumors that are associated with von Hippel-Lindau disease; Light chain amyloidosis; locally advanced unresectable or  metastatic perivascular epithelioid cell tumor (PEComa).
In Neurological and Psychiatric Disorders, FDA used the accelerated pathway and approved a new drug to treat Alzheimer's disease-the first new treatment in nearly 20 years and the first therapy that targets the fundamental disease pathophysiology. This approval arouses national debate toward its approval, efficacy, and applicable patient groups. 
The COVID-19 pandemic presented unprecedented challenges and raised alarm for future possible public health crises caused by infectious disease. The full approval of COVID-19 is a milestone in the fight against this pandemic. Besides the current public health concern, the FDA approved a drug to treat the eradicated human smallpox disease, an important medical countermeasure for potential risk.
A variety of novel drugs and therapies were approved for new drugs and therapies for rare diseases. In 2021, 26 of the 50 novel drug approvals (52%) were approved to treat rare or "orphan" diseases. (FDA, 2022)
Why the Quest for a Hospital's Expertise? 
Because no medical expertise, no service excellence.
Hospitals are not created equal; neither is their expertise. Further, expertise is more than just a reputation: even the most renowned hospital is not the best for each and every one disease. 
As much as we hold these truths above to be self-evident, we also share these inconvenient experiences: upon receiving a serious diagnosis, the focus of your life changes. How do you choose a hospital best for your specific condition at a trying moment like this? 
The answer is to pursue their expertise. Studies show "medical expertise" is the most demanded "need to know" for a patient to decide where to go. It matters even more for patients suffering from illnesses in oncology, complex diseases or rare diseases, where the frontier of medicine is continuously causing paradigm shifts in these disease areas, expanding treatment options, enhancing standard of care, and making better outcomes possible.
The Landscape of America's Hospitals: 
These medical breakthroughs cannot come to being without the contribution of America's hospitals, especially major medical centers, teaching hospitals and academic medical centers. They are known for their devotion to clinical practice, scientific research, and translational investigation. Together with their affiliated medical schools, universities and other research institutions, America's hospitals are the powerhouse for frontier medicine and birthplace of medical expertise. 
There are over 6,000 hospitals in 2021 in the United States, according to the American Hospital Association (AHA), including ~1,400 teaching hospitals and ~400 academic medical centers (AHA, CMS, AAMC, 2022).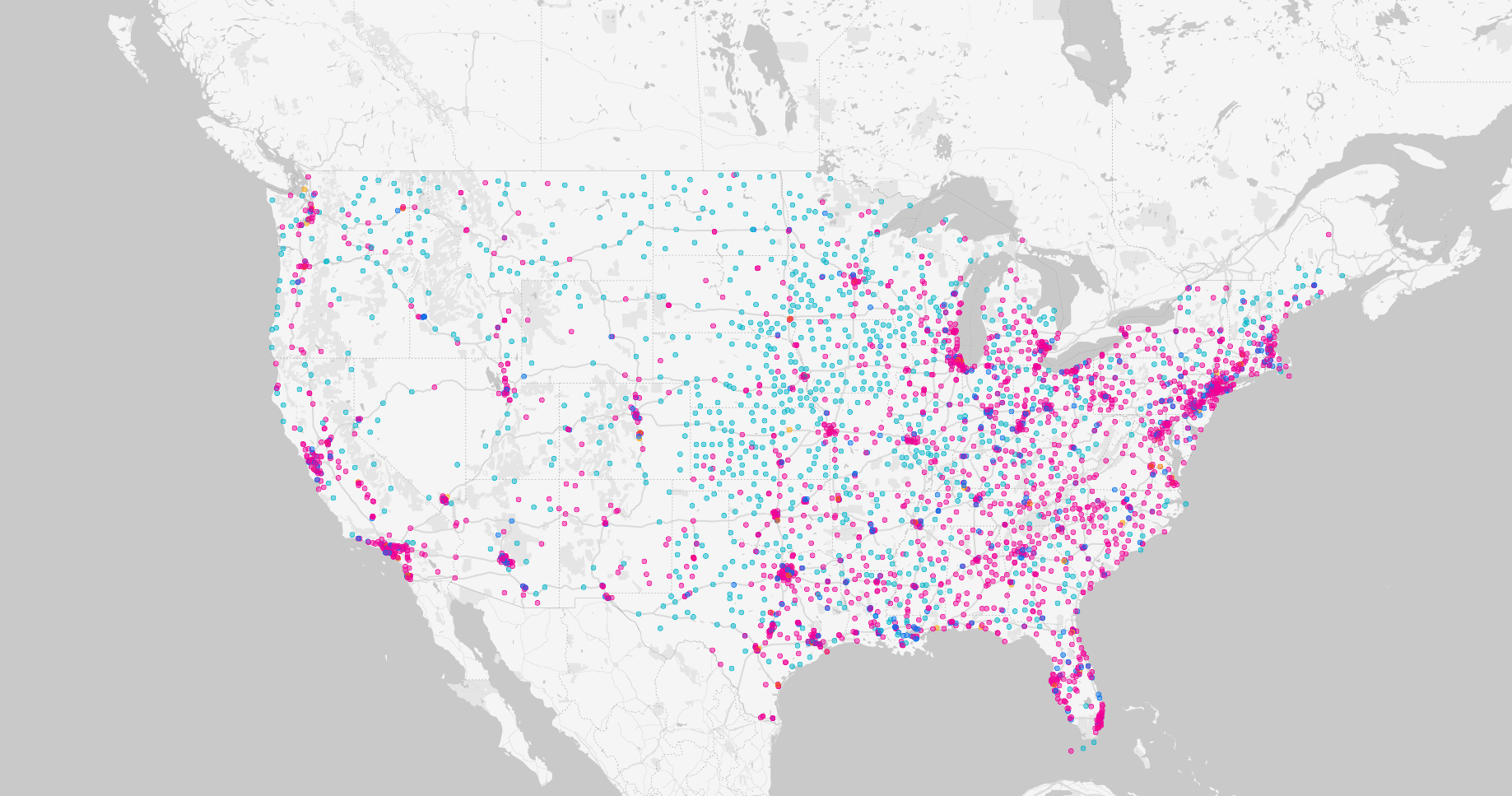 Search for the Best of the Best
In this study, we celebrate America's Top Hospitals' quest for medical expertise. We make it known to the public, America's Top Hospitals on Medical Expertise, and their invaluable contribution to the most recent medical breakthroughs. We focus on each and every disease with FDA approved novel therapies in the past year, and investigate individual hospital's expertise-relevant data in clinical practice, science and translational medicine. 
Aided by proprietary award-winning algorithms, this study yields unprecedented granularity that reveals the disease-specific difference among thousands of hospitals, even in between the top ones!
In total, 24 hospitals were identified for the expertise evaluation, representing the top 4‰ of all hospitals, or 6% of academic medical centers in the United States. This year's top 24 are located in 19 cities from 17 states across the country.
Regions, like New England, Mid/South Atlantic, Greater Lake and California, are where the most top rated hospitals call home. 

Meet this year's top hospitals for medical expertise
Now, let's meet this year's 24 hospital awardees. And make their quest for expertise known to the world! 
The Johns Hopkins Medical Institutions (JHMI) was top ranked for the most number of top rated diseases. Brigham Women's Hospitals (BWH) was ranked the second. Both have held their positions from last year, and the only two with over 40% diseases top rated. 
MD Anderson Cancer Center (MDA), an institution specialized in oncology, is ranked among the top three. MDA's performance also represents the progress made in oncology the past year. The manifest carries more weight at the 50th anniversary year of the National Cancer Act, landmark legislation "declaring war" to fight cancer. Similarly, Memorial Sloan Kettering Cancer Center (MSKCC), another independent cancer institution, is ranked among top rated hospitals. In addition, BWH's high rank is also related to Dana Farber Cancer Institute (DFCI), its affiliated National Cancer Institute (NCI) designated comprehensive cancer center.
Overall
Disease Category (TBA)
Institutions, such as UCSF Medical Center, Penn Presbyterian Medical Center, Mayo Clinic, Duke University Medical Center,  University of Pittsburgh Medical Center, University of Washington Medical Center, UCLA Medical Center, and Barnes-Jewish Hospital, achieve their excellence in expertise for designated disease areas. Their performances are ranked in the top ten.
This study also congratulates other awardee institutions, ranked by alphabetically,  including Massachusetts General Hospital, New York-Presbyterian, Northwestern Memorial Hospital, Memorial Sloan Kettering Cancer Center, Stanford Hospital, Yale New Haven Hospital, University of Colorado Hospital, Cleveland Clinic, Mount Sinai Hospital, University of Michigan Hospitals and Health Centers, NYU Langone Medical Center, Indiana University Health, Vanderbilt University Medical Center. 
They are the best of the best!
Be an informed patient
Just as no two diseases are exactly alike, no two people have the same medical care needs. But we all share the same need to know about a hospital's medical expertise - how good the hospital is for my specific disease- before choosing one!
We are determined to bring "precision" to medicine, from the selecting of care team! Be informed and empowered with the innovation started from Johns Hopkins!
Talk to HAIEL
To find the best expertise for your disease!